I love apples.
Unfortunately I haven't been
able to go to an apple orchard this fall
like Miss Kelley. :(
I decided to make another recipe from the Today Show. The recipe is called Savory Stuffed Baked Apples. You can find the recipe
here
.
The ingredients were simple. The only ingredient that I hadn't used before was
sherry
. I knew what it was, but this is the first time that it has shown up in any recipes that I have attempted.
Ingredients:
3 slices of bread with the crust removed (I used white because I can't have very much wheat)
3/4 cup milk
1 lb ground beef, pork, or veal (I used beef because I won 10 lbs at a meat raffle, not kidding)
2 slices of bacon
1 onion
1 garlic clove
1/4 teaspoon cinnamon
a handful of chopped parsley
salt
6 large baking apples
1 tablespoon lemon juice
olive oil
1 tablespoon of sherry
Start by preheating the oven to 425.
Core the apples and expand the openings.
This was challenging. I used a melon baller. That worked pretty well.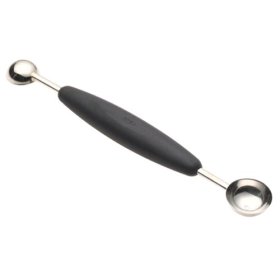 Tear up the bread into small pieces. Soak the bread in the milk for 10 minutes.
The recipe called for rubbing lemon juice on the apples. I've done this before to limit the browning on apples. With this recipe, it didn't seem completely necessary because there wasn't much time between coring the apples and baking them.
Mince up the garlic and chop the onion. Toss the meat, garlic, chopped parsley, salt, cinnamon, bacon, and onion in with the soaked bread. I fried my bacon, but this was unclear in my recipe. I was just assuming that it was supposed to be cooked.
Now, stuff this meat mixture into the cored apples. I had an abundance of extra meat mixture. I ended up coring more apples to finish the rest of the meat mixture.
Drizzle the stuffed apples with the sherry and olive oil.
Bake for 35 minutes. My apples exploded a little. It didn't seem to impact the flavor. They were delicious and juicy.
When I make this again, I'm going to try pork. It seems like pork and apples are a better combination. I remember eating pork chops and apple sauce as a child.